Missing Google Apps and Play Services on your Android smartphone? There is no need to worry! Download Google Installer V3.0 APK to install Google Play Store on your Huawei, Honor, Xiaomi, Poco, Redmi, and other Chinese devices.
Google Installer 3.0 is the latest version that lets users download and install Google Apps like Google Play Store, Gmail, Google Chrome, Google Calendar, Google Maps, and more on Chinese Android phones. As we all know, Android phones sold in China don't come with any of Google apps and services installed. This is because of certain Chinese policies.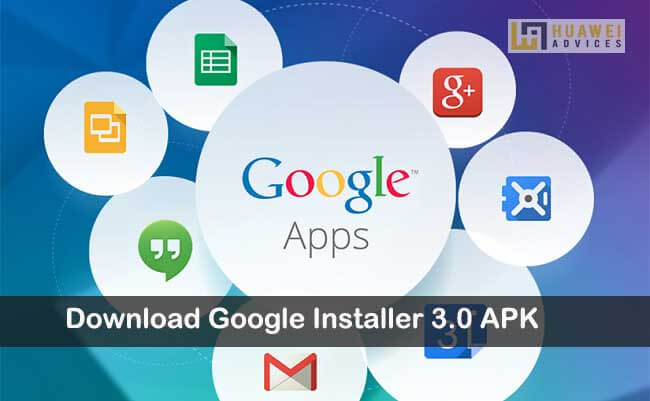 Moreover, the global versions of the latest Huawei Mate 30 series smartphones also don't include Google Apps due to the US trade ban. This means, there will be no Google Play Store or any other Google Apps in the upcoming Huawei and Honor smartphones if the US trade ban doesn't resolve. But, you need not worry. Google Installer will let you grab all the Google apps and services in a single click.
Google Installer 3.0 brings support for the latest Android OS. It is compatible with most of the Chinese smartphones by Huawei, Honor, Xiaomi, Samsung, Oppo, Vivo, Redmi, Realme, etc. Also, the Google Installer doesn't require root access and works with Android phones with a locked bootloader.
The following Google Play Store installation guide is compatible with most of the Huawei Chinese devices including Huawei P30 Pro, P20 Pro, Nova 4, Honor 9X Pro, Honor View 20, Honor Magic 2, Mate 20 Pro, Honor 8X, Huawei Mate 30 Pro, Huawei P40 Pro Plus, and more.
Also Read: Download Google Play Store on Huawei Chinese phones
Google Installer V3 Features:
Updated V3 of the popular Google Installer by Eric Xiang;
Supports Oreo, Pie firmware
Google Play Services
Google Play Store
Google Services Framework
Google Calendar Sync (all your birthdays and meetings from Google Calendar)
Google Contacts Sync (for contacts from Google servers)
Download Google Installer 3.0 APK
   Download Google Installer v3 APK
   Download Google Installer APK (Older version)
How to install Google Apps and services using the Google Installer 3.0
1. Firstly, download Google Installer 3.0 APK from the above download button to your device storage.
2. If this is the first time you're installing the third-party APK file, you need to enable "Unknown Sources" from device main settings.
3. Locate the APK file using the File Manager app.
4. Tap on it and follow the on-screen instructions to install the app.
5. Open the app from the App Drawer.
6. You need to tap on the large blue button titled "Install" to proceed with the Google Apps installation.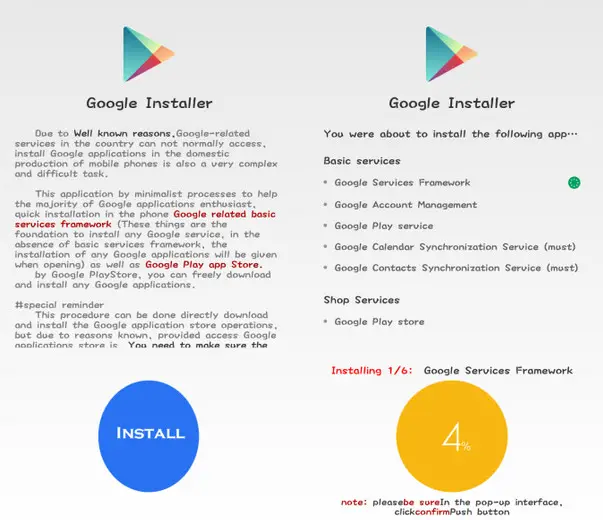 7. Once done, reboot your Android device.
8. That's it! Google Apps and Services will be successfully installed on your device.
I hope the above steps were useful to install the Google Play Store and other useful Google Apps on your Android device. For any kind of queries or issues, feel free to comment below. We'll be glad to help you out.